Where is Diamond's home?
UPDATE March, 22, 2004--Sadly, we learned that after only one day at his new home, Diamond bloated on the 21st and was put down. After all that time waiting, why? May he find fields full of rabbits in the next life.
UPDATE March, 20, 2004--Diamond has finally found a new home!!! Please all wish him and his new family the very best.
Strength of a Diamond
by Patti Tate
His name is Diamond ...... There was no mistaking him.
I walked down the step into the kennel area, and the thrashing exuberance shone brilliantly amidst a sea of others.
"Why doesn't he look like his picture?" I mused. Then I realized that here was a dog that does not do "still life"; no photo could properly describe him.
The cage door opened, and all in the room stood back. He was imposing! He exploded from his cage, bounding about the room, leaping, and jumping, grinning with huge lolling tongue; writhing and wagging his sheer joy at being alive.
All stood in literal awe.
I hadn't been so entranced by an animal since seeing stallions race the fenceline on a farm where I grew up. I remember marveling at their wildness, at their power, at their supreme confidence ...... and here, I felt the same. This dog was magnificent.
I snapped the leash on, feeling a bit guilty as I did so. It seemed "wrong" to enslave such a spirit. The dog felt it was "wrong" too, and our walk proved more a joust amongst equals than the leisurely stroll with a friendly hound. He remained in good spirits about it, however; and with each command, would politely look my way ... wag his tail ... and do the opposite.....always with a swashbuckling flair which plainly stated .... here was a dog who proceeded only by his own choosing.
He had a family once. A large group of active children once crowded him with love. He loved them too, and I'm told the entire family cried when they brought him back to the kennel ....it was truly a tragedy.
He tried again. This time in a home which did not understand the power of one so dashing. A home where his swift wit, and swashbuckling attitude were objects of fear. A home where something so mighty .... just did not belong.
Undaunted by life's tragedies, he bears no emotional scars. He strides about, supremely confident that all who meet him, should love him. And, indeed, they should....... but I know they will not.
I know they will fear his passion, look with anxiety upon his confident bearing, and shrink in terror when they hear of a past littered with failure. They shouldn't do this ... but they will. They are, after all, only human. And this dog is magnificent.
Across time it is the tenacity of spirit which prevails ..... which stands against tragedy -- bravely continues -- and shines in brilliance as a beacon where all may draw strength.
It shines like a Diamond.
copyright © 1999 Patti Tate, all rights reserved. Used here with permission, do not reprint without author's permission. For more of her wonderful writing on the lives of canines please visit Fluffy Fables
This page isn't for one of our Greyhounds, it's for one living at the Greyhound Placement Services kennel. Oh, we had hoped that if he were still available we could adopt him when we moved for he is something special. But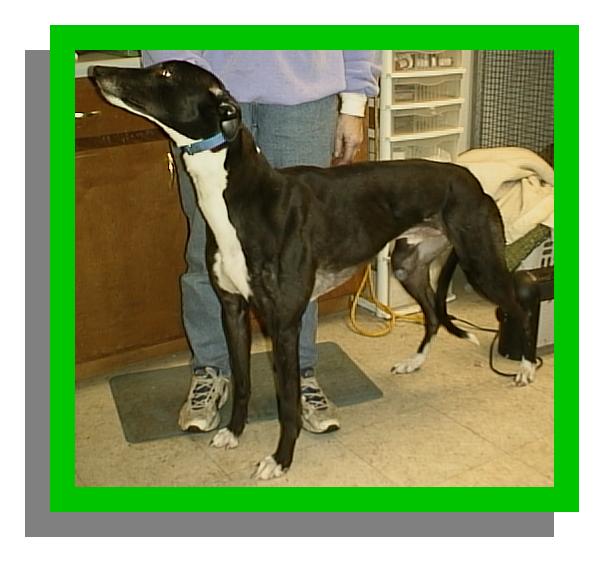 while he might get along with some other Greyhounds, some personalities never do match (especially between dominant same gender canines)....he and the Bran-brat would never be able to live together. So his home is elsewhere.....but where?
Diamond is a tall black male, 5 years old (9 in 2004) , named for a small white diamond on the back of his neck. He is gorgeous, strong and muscular, with a classically well shaped head. Friendly, outgoing, self-assured. And a victim of two myths.
Myth 1, that all Greyhounds are of the same temperament. That they are all small, and cute, and docile, even shy. That they are unassuming couch potatoes who never make a peep. They need little exercise and are undemanding of attention. For even dogs fitting this description such expectations can lead to a bored, understimulated dog. Any dog needs attention, everyone no matter the species needs to get out and exercise and experience life. (for more on my thoughts on this see this page) But some, like Diamond, demand it. He is a playful adventurer and needs a match. And due to this myth most looking for a Greyhound are not looking for this striking creature, and those that would most love an animal like this do not often consider looking for it in a Greyhound.
We also took him for a walk one day during an open house at the kennel. I brought him out, he was polite at the door, letting me go through, clearly accepting I was in charge. Once outside he checked everything, all was exciting, he was much more as Patti describes. Aaron brought our hounds from the truck and met us. Diamond play bowed to them before rushing over to happily greet them. He revelled in the experience, checking all the smells, greeting all the other dogs out for walks, impressing all that saw him.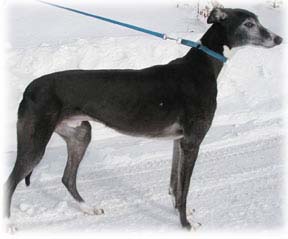 Myth 2, the silly notion that black dogs are somehow bad. Not the Black Dogs of British lore, that haunt lonely roads and frighten those who believe them demons or Witch's familiars, but the more "mundane" idea that black dogs are for some reason dangerous. That there is something inherently wrong with any black dog. Or perhaps they are related myths, the demonic becoming simply scary in the "mundane" world. But just as the original Black Dog lore of pre-Christian religions conveyed the spectral hounds more as helpful guides, we should also remember that color has nothing to do with temperament and a black dog is going to be as loving and devoted companion as any other color. Especially in a breed like Greyhounds where there are so many colors and so many personalities, totally exclusive of each other. Yet, this fiction is amazingly pervasive, there have even been vets who have spread it!
Perhaps, as mentioned here Apparitions Of Black Dogs, as the lore of the Black Dogs turns back into something positive, as these supernatural animals are seen more and more as luck bringers, the black dogs of this world will likewise be redeemed. And there are those of us who have never seen the Black Dogs as inherently evil, who in fact may find a kinship in how others view us both. If others link us in a negative way, then should we not make this part of the reclamation, to remember that black dogs were seen as Witch's familiars as much as black cats were?
I could see a dog like this this a few hundred years ago the favorite hunting hound of a warrior. Loyal and loving, good with the other hounds, but knowing that he is special. Running prey, sitting at his person's feet, exploring new territory; all with a happy grin. I could see him today at the side of an equally playful spirit; hiking, playing, running, and curling up nearby at the end of the day. But he sits in a kennel, has for some time, well, cared for but without a person of his own, flashing that grin at all who look at him, ready to go for a walk, to have an adventure.
Diamond needs a forever home with no small children, with someone whose personality is as adventurous and fun loving as his. Someone who will give him "a job" even if it's just frequent long walks exploring the neighborhood. Someone who will be as loyal to him as he will be to her/him. He gets along well with other large dogs , but not cats, small dogs, or other small animals. He would also do well as an only dog in a home with a lot of attention. He had a home for awhile, so he's been through the adaption process. And he seems an adaptable sort. After all, life is an adventure.
Do you think you are the person Diamond is looking for? Then contact Michele through the Greyhound Placement Services of NH Website Even if you are not in NH, please consider making contact, GPS accepts references from other Greyhound adoption groups and veterinarians. And if you feel that you are looking for a Greyhound to adopt, but Diamond might not be the dog for you, please head over to the GPS site and see some of the others waiting for homes and read more about adopting Greyhounds.
Disclaimer: All opinions on this page , aside from Patti Tate's side bar and any quotes, are my own (Kym ní Dhoireann) and no one else's, they are not to be considered shared by GPS, Michele, Patti Tate or anyone else that might be refered to or implied here, as none are connected to this site. I am doing this for Diamond on my own, with GPS's permission but that does not mean they endorse or agree with my opinions or beliefs.
All material copyright © 1999, 2000, 2002, 2004 Kym ní Dhoireann, unless otherwise noted. "Strength of a Diamond" is copyright © 1999 Patti Tate, used with permission. Photo of Diamond belongs to the GPS website, used with permission. This page can not be reproduced in full or in part and republished without permission from myself, Patti Tate, and GPS. Permission to link to this page is freely given and we are most grateful for it. Background modified from a graphic from the World of Celtic Art Top bar Clipart Castle
You are
person to consider helping Diamond since Jan. 22, 00
Counter courtesy of Web-Counter